Long Layered Hairstyles – Tips To Learn From The Celebrities
Long layered hairstyles can be worn all year long, and can look great no matter what the occasion. They look great on those who have round or pear shaped faces, since the layers can work to change the shape of the face and make it look longer than it actually is. Layered hair can also add a great amount of volume to any type of hair, so those with thin and flat hair can improve their look with layers.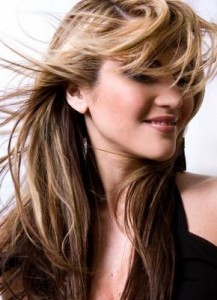 Frizzy or color treated hair can benefit from a layered look, since dead ends can be cut off and allow the healthy hair to shine through. Layered hair is great for those who want to bring more attention to the beauty of their face, since layers will bring the attention inward rather than outward.
Many celebrities love wearing their hair in thick, beautiful layers, especially since it has a great amount of versatility. Jennifer Aniston is well known for her stick straight layers on the sitcom "Friends", which can easily be done by using a straightening iron and hair wax on the tips. Jessica Simpson has also experimented with the layered look, but hers is much more blunt and straight. Bangs can also be included with a layered look, and long bangs that are swept to the side look amazing.
Some downfalls that come with long layered hairstyles are the ability to keep your hair up, especially if some of the layers are cut short. Layered styles work best for those with straight or slightly wavy hair, but may be difficult for those with curls. Layers can also be hard to grow out once they have been cut, so make sure you are in for the long run before you decide to go through with the style.
For some added style for layered looks, you can add highlights and lowlights to your hair. This will bring out the different chunks of layers, making them stand out more and do their job. Layered hairstyles can be easily maintained, especially for those with naturally straight hair. You can either dry it straight and add definition to the ends with spray mouse or gel, or choose to go chunky by adding wax for a wet look. It can be worn natural and still have a great deal of volume, or you can blow-dry it upside down for even more. Long layered hairstyles can be easily achieved; only take a few minutes to style, and can be worn in the most casual or classy occasions.
Leave a Comment